Assertiveness for Earth Angels: How To Be Loving Instead Of "Too Nice" (book review)
By
I received a complementary copy of this book from Hay House for review purposes.  The opinions are completely my own based on my experience.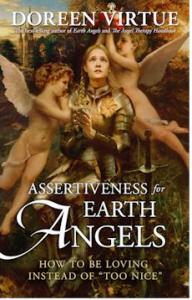 Throughout my life I have had people tell me that I'm generally a nice guy.  Except once, an older co-worker, called me "too nice".  "Ewwww!  what does that mean?" I wondered.  If you've ever been labeled in this way, Doreen Virtue's "Assertiveness for Earth Angels: How To Be Loving Instead Of 'Too Nice'" is just the book for you.
"I discovered that there's a vast difference between being 'nice' and being "loving'," Virtue writes early in her book.  She goes on to describe in detail "loving" behaviors which may not appear to be "nice" on the surface, with chapters on assertiveness, setting boundaries, recognizing toxic relationships, and more.  I found Assertiveness for Earth Angels loaded with practical advice for us nice guys and girls.  There's very little talk here of communicating with Angels, a prominent feature of other books I have read by the author.  Instead Assertiveness for Earth Angels contains page after page of strategies for interacting with the everyday people in your life.
I liked how Virtue is vulnerable with her own struggles in the book.  She categorizes herself as a former "too nice" person, and she is very open with how she transformed out of that mindset.  She shares personal details on how she worked through a painful divorce and other challenges.  "I've learned that when your back is pushed up against the wall (metaphorically), you find your inner strength," she writes.
Another issue I have is being intimidated sometimes in the presence of authority figures.  Virtue says that is a common trait of "too nice" people.  "It's fine to admire and appreciate people," she says,  "but don't make them out to be separate from or better than you. Instead, let someone else's admirable traits inspire you to reach for your own dreams!"  I found the author's wise words on this and other topics almost like she wrote the book just for me.
"If you have high self-esteem, you'll choose relationships with nice people who won't take advantage of you," Virtue writes. "However, most Earth Angels are drawn to unhappy people who need 'fixing.' This gives them a sense of purpose."  The antidote to the condition of being "too nice"?  "If you're assertive," Virtue says, "you know that relationships are built upon revealing your true self. Otherwise you'll never feel loved, because the other person doesn't even know the real you! The only way to genuinely feel loved is to take the risk of being your true self and then find that you're accepted and cherished for who you really are."
Assertiveness for Earth Angels encouraged me to be real in my personal relationships.  It's a valuable book for anyone who has a "too nice" streak in his or her personality.
You can get "Assertiveness for Earth Angels" from these book sellers: