Author Archive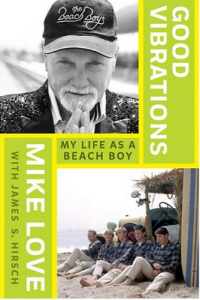 I received a complementary copy of this book for review purposes. The opinions are completely my own based on my experience.
Mike Love does not hold back in his book "Good Vibrations: My Life as a Beach Boy".  Love gives a thorough account of the band's 5+ decade run.  "The specific details on the origins of the Beach Boys—who played what, when, where, and how—have been recounted in many, and at times contradictory, ways over the past fifty-five years," Love writes early in the book.  "I can only offer my best memory about what happened."
I liked Love's honesty in Good Vibrations, detailing the high and low moments of the band and his life.  "I was good at falling in love but lousy at being in love," he writes as he tells of his many failed marriages and romances throughout the book.  But Good Vibrations is primarily about the formation, challenges, and successes of the Beach Boys.
I learned of the band's humble beginnings.  "It wasn't as if we had some big meeting and decided to create a band. It was more of a natural evolution, as we had been singing together as a family for years," Love relates.  Love and his cousins originally called themselves "The Pendletones".  After obtaining their first record deal with a small company, "it was a shock when we opened the record and saw our name: the Beach Boys," Love recalls.   This was one of many little tidbits in the book of the Beach Boys origins – sure to be interest to the band's fans.
There are plenty of background stories in Good Vibrations on how the band's iconic songs came to be.  Such as the formation of "Catch A Wave".  "Brian (Wilson) wanted to use a harp (on that song), so he contacted the best harpist he knew—my sister Maureen," Love remembers.  "She was living in San Jose, and Brian called at ten a.m. and asked if she could be there that night. With her harp."  Many of the Beach Boys hit songs were created with spur of the moment decisions like this, and not with weeks of planning.
And there are many stories of the Beach Boys down times.  Brian Wilson was the creative genius of the group, but struggled with addictions.  The Manson family lived with band member Dennis Wilson for a time, before that group's horrid murders, as Charles Manson wanted to become a rock star.  While having their share of megahits of their own, there was constant pressure on the band to keep up with the Beatles.
Even with all the internal bickering, unknown to the band's fans but revealed in Good Vibrations, the Beach Boys managed to create a unique sound that will forever be a part of American music lore.  "Beach Boys' music represents joy of life and joy of living," said band member Carl Love as related in the book.  If you are a fan of the Beach Boys, as I am, I think you will enjoy reading this behind the scenes account of the band's ups and downs over the years.