Archive for Book Reviews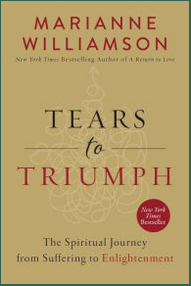 "All of us yearn for happiness and love, and sometimes we find it," writes Marianne Willamson in her new book Tears to Triumph: The Spiritual Journey from Suffering to Enlightenment. "Yet most of us are visited at some point by sorrow as well. A relationship, a job, a particular circumstance brought us happiness—but then something went wrong."  Can you relate?  I can.  If you are spiritually inclined (or even if you are not) Tears to Triumph is one of the best books I have read on working through hard times.
The author speaks from experience in writing about challenging life circumstances.  "I know something about suffering, as twice I've been diagnosed as clinically depressed," she says.  "I've also experienced personal tragedy and the deaths of loved ones. I've suffered through devastating betrayals and disappointments. I've felt on more than one occasion that I had lost any chance of happiness I might have ever had."  Yet Williamson has transformed these painful events to gain new spiritual insights – insights she shares with her readers in Tears to Triumph.
Sometimes I read criticisms of a metaphysical type of spirituality, like Williamson espouses, from religious conservatives.  "You deny the harsh realities of life with your positive messages," they may say.  Williamson, who bases her work on A Course in Miracles, does not shy away from darkness and pain in this book.  "Grief and sadness can be part of a transformational process, one that should not be automatically labeled negative," she believes.  "Difficult emotions are at times appropriate; they can be exactly what we need to experience in order to truly heal, grow, and get to the other side of our suffering with meaningful lessons learned."
As with another book I reviewed last year, Ellen Debenport's Hell in the Hallway, I'm getting the message that it is healthy not to deny pain but to feel your way through it.  The hope is that you come out stronger and wiser, and through the lessons learned you can be of service to others.  In her book Williamson emphasizes prayer and forgiveness as aides to healing.
"A prayer for a miracle is not a request that a situation be different, but a request that we see it differently," the author writes.  I recommend reading Tears to Triumph for help in transforming your own painful experiences to something good – for yourself and for others.