Archive for Inspiration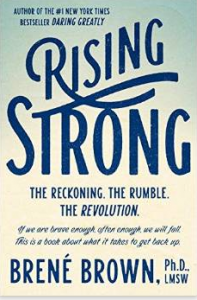 I received a complementary copy of this book for review purposes.  The opinions are completely my own based on my experience.
I was fortunate to receive an advanced copy of Brené Brown's new book Rising Strong. From the cover: "If we are brave enough, often enough, we will fail. This is a book about what it takes to get back up." I had heard Brené Brown speak with her power of vulnerability message but I had never read any of her books.  I'm all for positive thinking, and there are a ton of books out there emphasizing that. But this book is different in that it recognizes personal failures are inevitable if you keep putting yourself out there, and how to work through those disappointments to grow as a person.
Brown doesn't just write and speak about vulnerability, she lives it.  Early in Rising Strong she shares details about a misunderstanding with her husband as they swam across a lake.  Later she writes about her reaction to a negative, condescending comment she received after one of her talks.  "Here is a best selling author, a frequent Oprah guest, a renowned TED talk speaker and she still works through feelings of self doubt, too?" I thought to myself as I read the book.  Rather than preaching to us from on high, Brown is one of us.  In Rising Strong she is very open about her own struggles, and how she worked through those to gain a better understanding of herself.
I like how Brown emphasizes that's it's OK to feel down sometimes – it really is.  "When we deny our stories and disengage from tough emotions, they don't go away; instead, they own us, they define us," she writes.  The next time somebody tells me to "just get over it" in regards to a hurt, I'll remember that passage.  "Our job is not to deny the story," Brown says, "but to defy the ending—to rise strong, recognize our story, and rumble with the truth until we get to a place where we think, Yes. This is what happened. This is my truth. And I will choose how this story ends."

While reading Rising Strong one of my favorite quotes from came to mind: "The pessimist complains about the wind; the optimist expects it to change; the realist adjusts the sails."  (William Arthur Ward).  Rising Strong is a book for realists..  Rather than denying hurts Brown encouraged me to work my way through failures, to adjust my own sails.  "The truth is that falling hurts. The dare is to keep being brave and feel your way through it," she says.
Rising Strong will be available to the public August 25, 2015.  I was late coming to the Brené Brown party but I'm glad I did.  She writes, "Here's how I see the progression of my work: The Gifts of Imperfection—Be you. Daring Greatly—Be all in. Rising Strong—Fall. Get up. Try again."  Now I that I've read the third act I want to go back and read the first two.  If you have had issues with your own failures (who hasn't?), Rising Strong is a must read.