Eleven Rings: The Soul of Success (book review)
By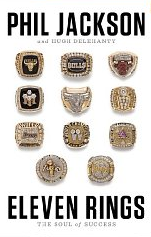 Eleven Rings: The Soul of Success was just the right book for me to read.  Two of my passions are learning about spirituality and following professional sports.  Long time NBA coach Phil Jackson discusses both these topics in depth in his new autobiography, giving a behind the scenes look at Jackson's eleven nba championship teams.
On the basketball side, I enjoyed reading stories of Jackson's rise from a high school basketball player in North Dakota to the NBA's New York Knicks, and his coaching stints with the Chicago Bulls and Los Angeles Lakers.  He tells stories of the star players he mentors, such as the Lakers Kobe Bryant. "When I'd first arrived in L.A., I'd encouraged Kobe to spend time with his teammates instead of hiding out in his hotel room studying videotape," Jackson recalls. "But he'd scoffed at the idea, claiming that all those guys were interested in were cars and women. (Soon) he was making an effort to connect more closely with his teammates and figure out how to forge them into a more cohesive team."
Having long been a fan of NBA basketball I found Jackson's anecdotes about different high profile stars fascinating.  In addition to Bryant, Michael Jordan, Scottie Pippen, Shaquille O'Neal, Dennis Rodman and other players on Jackson's teams are profiled in the book.  Jackson's love of the game comes through.  "Some coaches are obsessed with winning trophies; others like to see their faces on TV," he writes. "What moves me is watching young men bond together and tap into the magic that arises when they focus—with their whole heart and soul—on something greater than themselves. Once you've experienced that, it's something you never forget."
Equally intriguing was Jackson's spiritual journey.  His mother and father were Pentecostal Christian ministers, a path Jackson almost followed himself.  He was initially reluctant to play for the Knicks as he wanted to go to graduate school to become a pastor.  Jackson's transformation from fundamentalist Christian to Zen Buddhist is described in detail in Eleven Rings.  "I am anti lemming by nature. It goes back to my childhood, when I was force-fed religious dogma by my parents," he writes.  "I was expected to think and behave in a rigidly prescribed manner. As an adult, I've tried to break free from that early conditioning and develop a more open-minded, personally meaningful way of being in the world."
How Jackson applies his spirituality to the ego driven, competitive world of the NBA comes across in page after page in the book.  "For a long time, I believed I had to keep my personal beliefs separate from my professional life," he recalls.  "In my quest to come to terms with my own spiritual yearning, I experimented with a wide range of ideas and practices, from Christian mysticism to Zen meditation and Native American rituals. Eventually, I arrived at a synthesis that felt authentic to me. And though at first I worried that my players might find my unorthodox views a little wacky, as time went by I discovered that the more I spoke from the heart, the more the players could hear me and benefit from what I'd gleaned."  He teaches his Bulls team mindfulness meditation and gives players books to read to aid in their spiritual development.  He even describes his basketball strategies in spiritual terms, calling his unique triangle offense "five-man tai chi".
If you are a fan of NBA basketball, you'll love Eleven Rings for Jackson's insights into the game.  The book is equally valuable in profiling the coach as a highly successful professional living his spirituality in everyday life.