From My Hands and Heart: Achieving Health and Balance with Craniosacral Therapy (book review)
By
I received a complementary copy of this book from Hay House for review purposes.  The opinions are completely my own based on my experience.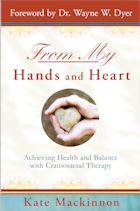 There are many different healing practices available to people today.  Kate MacKinnon introduced me to a new method I was not familiar with in her book "From My Hands and Heart: Achieving Health and Balance with Craniosacral Therapy".
What I first noticed was the endorsement of Craniosacral Therapy (CST) by well known spiritual author Wayne Dyer.  Dyer has featured MacKinnon on his Hay House radio show, and he wrote the introduction to her book.  MacKinnon's CST practice worked on Dyer, helping him overcome the energy zapping effects of lymphocytic leukemia.  "I encourage you to pay close attention to what this phenomenal teacher has to offer you concerning craniosacral therapy as an alternative to the far more extreme options that are generally offered through the medical model," Dyer writes.  If CST is good enough for Wayne Dyer, it's good enough for me.  I wanted to read more.
I liked MacKinnon's emphasis on natural healing.  "With CST we recognize that, given proper support, the body will heal itself, creating a custom solution to any problem that is causing discomfort," MacKinnon believes.  She gives a very thorough explanation of what CST is, backed by numerous case studies from her patients.  The many tales of people getting better through CST encouraged me to try this type of therapy myself.  The only problem is, would I be able to find a CST therapist as skilled as MacKinnon?  MacKinnon offers resources in the book to find your own CST practitioner from The Upledger Institute (www.upledger.com) – I was surprised to find a good number of CST therapists in my area.  I also liked her suggestions on how to determine if a particular CST therapist is the right fit for you.
MacKinnon is not against traditional medicine – in fact she suggests CST can support other healing modalities out there.  "I cannot imagine a life without dentists: their work is invaluable in preventing excruciating pain," she says.  "At the same time I cannot imagine how we can tolerate dental work without CST!"
I think From My Hands and Heart is best read by someone in a healing profession.  While I found the case studies interesting, it only took one or two to convince me that CST was worth a try.  I did not need the depth of analysis that MacKinnon delves into to prove the worthiness of CST – a person in the medical field will likely appreciate these detailed case studies more than I.  Nevertheless From My Hands and Heart is a worthwhile book to raise awareness of this innovative and natural healing practice.  "The most succinct and complete definition of CST I have come across," MacKinnon writes, "is 'the healing power of gentle touch'"  In a world filled with more intrusive medical options, CST is a welcome practice for me to consider for my future health needs.
You can get "From My Hands and Heart" from these book sellers: