Monday Night Football Memories
By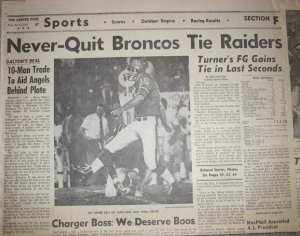 As I get ready to attend tonight's Denver Broncos game against Oakland, I think back to another classic game in Bronco history – the team's first ever Monday Night game on October 23, 1973 against the hated Raiders.
When Monday Night Football debuted in September, 1970 it was an instant success. The NFL gambled a solo prime time game would be the perfect end to a football weekend, and they were right. TV Ratings soared in the early years of Monday night football. For the first three years of the telecasts, though, you wouldn't know there was a franchise in Denver!
The Broncos not only failed to make an appearance on Monday night football in 1970-1972, they were also rarely mentioned on the popular "halftime highlights" segment with Howard Cosell. I remember tuning in to Monday night football after a big Bronco win (like the upset of the KC Chiefs to go to 3-0 in Sept 1970), but no highlights were ever shown. Letters flooded into ABC saying "why no broncos???!!!" Howard Cosell finally during one broadcast said "logistical problems with games played in Denver prevent us from showing Monday night highlights of the Bronco games." That made the Bronco fans even angrier – a popular activity at a Denver bar at the time was throwing a brick through a tv set when Howard's face appeared!
This all changed in 1973 when the Monday night crew FINALLY came to Denver. I was a teenager sitting in the South Stands on October 23, 1973. The city treated Howard, Dandy Don, and Frank Gifford like royalty that day, with a special lunch. Denver is known to get big snow storms in October (as it did years later in a home Monday night game against Green Bay) but that evening the weather was perfect – like a warm summer night. The Raiders had not lost in Denver since 1962 and were heavy favorites. I remember one sign hung on the fence in front of the East Stands, "We were going to give out 1,000 Copies Of The Book Cosell, But Logistical Problems Prevented It"
The game itself was memorable, with Billy Thompson returning a fumble for a touchdown in the first quarter. Oakland took a late 23-20 lead before the Broncos tied it with a Jim Turner field goal at the end. Never had a tie been so satisfying!
I think back and wonder why was the approval of Howard Cosell and the Monday night crew so important to the city? It was as if we needed external validation of our worth through our football team.  I was as guilty as the rest of the Bronco fans, tuning into Monday night highlights for a mere mention of the Broncos, only to be disappointed time and time again. The Broncos excellent performance that night was a sweet redemption from the three previous years of no Monday night appearances.