333 Keywords to Change Your Life (book review)
By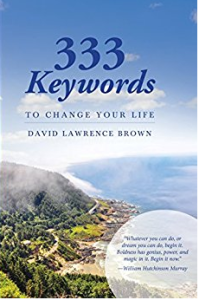 I received a complementary copy of this book for review purposes. The opinions are completely my own based on my experience.
"Words and affirmations can change your life," writes David Lawrence Brown in his book 333 Keywords to Change Your Life.  "Words that are positive in themselves or that elicit positive thoughts, memories, and experiences are important to add into our 'self-talk,' thoughts, goals, and communications with others."  For anyone who values the power of affirmations, Brown has created a wonderful resource to enhance your own spiritual growth.
Each of the "333 keywords" is a word you might think about on any given day.  Say you are holding a grudge against someone and you realize forgiveness can get you out of your funk.  Look up "forgiveness" in 333 Keywords and you'll find a quote related to forgiveness ("The weak can never forgive.  Forgiveness is the attribute of the strong," – Mahatma Gandhi).  You'll find a three paragraph description of what forgiveness is all about, you'll find a forgiveness affirmation, a one minute meditation related to forgiveness, and a writing exercise to help you through your own forgiveness process.  Brown gives a similar analysis to his 332 other key words, with short one or two page treatments on words from Abundance to Yoga.
I was impressed with the amount of research that went into 333 Keywords.  From my twitter feed you know I love inspirational quotes, and the quote associated with each key word is worth the price of the book alone.  I also found the affirmations powerful, the meditations useful, and the writing exercises helpful for each key word.
333 Keywords is best used as a reference book, to take off the shelf when you need help in a particular area of your life.  Or read a one word treatment each day as part of your spiritual practice.  333 Keywords is not a book to be rushed through – rather savor each word and the wisdom Brown imparts related to that word.
"Everyone has their own journey in life and we are blessed with the freedom of choice as to how we want to live," the author writes.  "Whatever we need to change, or work on, or seek improvement in, affirmations and keywords can help us on the journey."  Brown's 333 Keywords will certainly aid in my spiritual journey – it has a prominent place on my bookshelf and I will refer to it often.