Archive for Book Reviews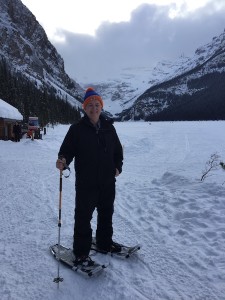 Earlier this year I thought picking my top 5 books for 2016 would be an easy task.  Because of lots of travel (that's me snowshoeing at Lake Louise, Canada in March) I just didn't read that many books in the first half of the year.  But I went on a book reading binge at year's end, many fine books, which again made narrowing my list to just 5 a difficult assignment.  Here are the top 5 books I read and reviewed on this blog for 2016 (with a link for each to my original review):
5. Tears To Triumph: The Spiritual Journey from Suffering to Enlightenment – Marianne Williamson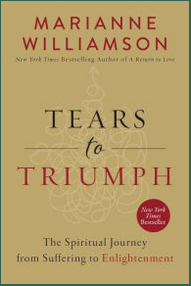 From my review: "All of us yearn for happiness and love, and sometimes we find it," writes Marianne Willamson in her new book Tears to Triumph: The Spiritual Journey from Suffering to Enlightenment. "Yet most of us are visited at some point by sorrow as well. A relationship, a job, a particular circumstance brought us happiness—but then something went wrong."  Can you relate?  I can.  If you are spiritually inclined (or even if you are not) Tears to Triumph is one of the best books I have read on working through hard times.
I like positive thinking type of books, yet books that don't deny the reality of suffering.  Hell in the Hallway and Rising Strong were two of my favorites from last year with a similar theme, and Tears to Triumph is another good one.
4. Year of Yes – Shonda Rhimes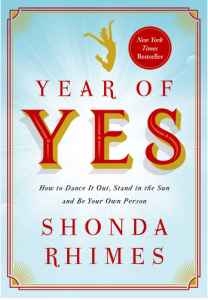 Shonda Rhimes sums up what this book is about in one paragraph:
"The point of this whole Year of Yes project is to say yes to things that scare me, that challenge me," she writes,  "So in order to YES a problem, I have to find whatever it is inside the problem that challenges me or scares me or makes me just freak out – and then I have to say yes to that thing."
This was the book I thought of most during the year as I found myself saying "yes" to my own fears.  Like snowshoeing for the first time, or volunteering to lead a book discussion group with my wife Anne at our church, or taking a class in the Fall with a bunch of people I didn't know where deep sharing and public speaking was required.  All these experiences were challenging to me at first, but ultimately rewarding.  Thanks to Shonda I took more risks in 2016.
3.  The Courage to be Creative – Doreen Virtue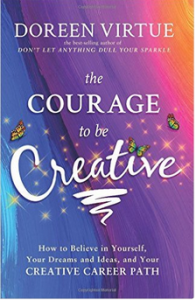 From my review: Do you consider yourself to be a creative yet sensitive person?  I do, so that's why I was drawn to Doreen Virtue's new book – The Courage to be Creative: How to Believe in Yourself, Your Dreams and Ideas, and Your Creative Career Path.  "Some of the most creative people I've met are also the most sensitive," Virtue writes.  "Their sensitivity makes them receptive to divinely inspired ideas.  Yet, that same sensitivity makes them shy to reveal their ideas to others."  Yep, that's me.
This book is a wonderful one to read for creative types.  In my case it encouraged me to continue my blogging (on this site and on my travel and sports blogs), after I took a few months off from writing anything.
2. What if This is Heaven – Anita Moorjani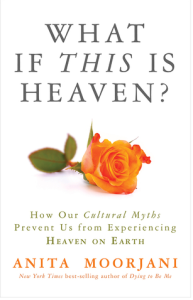 From my review: Anita Moorjani gets it.  After a near death experience (NDE) that she describes in vivid detail in her first book, Dying to be Me, she came to the conclusion that "being in that state made me realize that I didn't have to do anything to deserve being loved. I realized that I'm loved unconditionally just because I exist!"  Unconditional love is the basis for my spirituality, and much of what Moorjani writes in her new book "What If This is Heaven? How Our Cultural Myths Prevent Us From Experiencing Heaven on Earth" resonated with me.  Sadly, many of the belief systems of today are based in conditional love.  "As soon as we put conditions on love, it becomes something else entirely," Moorjani says.
There are lots of deep truths in What if This is Heaven.  I am looking forward to discussing this book with the group my wife and I lead at our church in 2017.
Number one: When Breath Becomes Air – Paul Kalanithi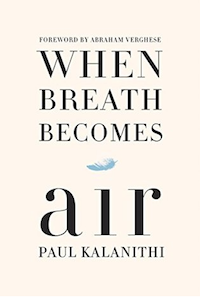 From my review: A successful neurosurgeon with seemingly everything going for him, Paul Kalanithi was diagnosed with lung cancer at age 36.  Before the disease claimed his life he kept a journal – a journal that became When Breath Becomes Air.
This was a different type of book than the usual self help fare I like to read.  A moving and heartfelt memoir of Kalanithi's challenges as a doctor and struggles with the disease that would eventually take his life.  "My life had been building potential, potential that would now go unrealized," Kalanithi writes.  "My carefully planned and hard-won future no longer existed. Death, so familiar to me in my work, was now paying a personal visit."  Whoa.  With words like this When Breath Becomes Air grabbed me from the start.  It usually takes me two to three weeks to finish a book.  I read When Breath Becomes Air in two days.
Honorable mention: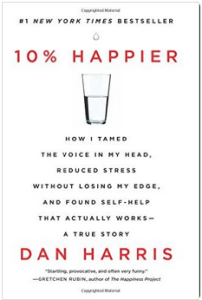 This book is summed up in the subtitle: "How I Tamed the Voice in My Head, Reduced Stress Without Losing My Edge, and Found Self-Help That Actually Works–A True Story"  I enjoyed reading this skeptical reporter's journey of exploring different spiritual teachers, and eventually finding a meditation practice that worked for him.
Divine Audacity – Linda Martella-Whitsett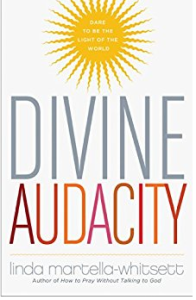 From my review: "Moment by moment, choice by choice, you decide whether you are only human or you are divine," Martella-Whitsett concludes in the book's final pages.  Spiritual growth doesn't come easy, it's something you have to work at.  That's the main message I received from Divine Audacity, with many suggestions on how to live from Spirit every day.