Beyond Past Lives (book review)
By
I received a complementary copy of this book from Hay House for review purposes.  The opinions are completely my own based on my experience.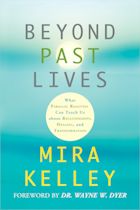 The concept that I may have lived past lives never really interested me.  Though in recent years I've delved into metaphysical spirituality through reading and by attending a local "new thought" church, the idea that I had lives before this one always seemed a little too "woo woo" for me.  Then I heard Brian Weiss, considered the foremost authority on past lives, speak at a Hay House I Can Do It conference this spring.  Weiss himself was initially a past lives skeptic!  His reasoned approach, full of real life examples, got me curious about the topic.  When presented with the opportunity to read and review Mira Kelley's "Beyond Past Lives: What Parallel Realities Can Teach Us About Relationships, Healing, and Transformation" I said, "why not?"  I was soon to discover Kelley's book is a fascinating study for anyone interested in past lives, even for a doubter like me.
"The most basic lesson is that it is possible to heal your present by working with your past," Kelley writes in the book's introduction.  "I was a Roman slave!"  "I was a British soldier in the American Revolution!" "I was a Russian Spy!"  While stories of past lives like these may lead to interesting cocktail party conversations, that's not the real purpose of exploring this phenomena.  One theme stressed repeatedly in the book is that examining past lives can lead to healing and living a better life TODAY.  "Reliving other incarnations helps us understand who we are and gives us guidance on our most pressing emotional and physical challenges," Kelley says.  I liked the present moment emphasis of Beyond Past Lives.  Who doesn't want to lead a richer, more fulfilling life?  Revisiting past lives can help us do that.
Another key point of Beyond Past Lives is related to our concept of time.  We humans think of our lives linearly, with a past, present, and future.  Kelley says that's an illusion, and that our multiple lives are really happening simultaneously.  This is a difficult concept to grasp for a logical thinking ex-engineer like myself, yet the author explains it well and gives good examples, quoting no less of an authority than Albert Einstein to back up her assertions.  "The understanding that time is simultaneous can assist all of us in our spiritual progression and expand our awareness of how we create our own realities," she writes.
"Have a mind that is open to everything and attached to nothing," Wayne Dyer writes in the book's introduction, relating how he benefited from Kelley's work.  Beyond Past Lives certainly piqued my interest in the topic that had previously seemed strange to me, and encouraged me to learn more.  I recommend the book.
You can get Beyond Past Lives from these sources: