Coach Wooden's Greatest Secret (book review)
By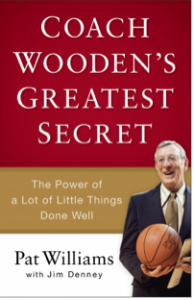 I received a complementary copy of this book for review purposes.  The opinions are completely my own based on my experience.
Legendary basketball coach John Wooden passed away four years ago, but his spirit lives on in the scores of people whose lives he touched.  One such man, former NBA General Manager Pat Williams, shares the lessons he learned from Wooden in his new book "Coach Wooden's Greatest Secret: The Power of a Lot of Little Things Done Well".
As a basketball fan all my life, I liked the behind the scenes stories of Wooden and how he motivated his championship UCLA teams.  Coach Wooden's Greatest Secret is full of personal stories from former UCLA players.  In one chapter Williams gives the details of a handout Wooden passed out to his players before every season:
You are in school for an education.  Keep that first in your thoughts, but play basketball second.
Do not cut classes and do be on time.
Have regular study hours and keep them.
Work for a high grade point average.  Do not be satisfied by merely meeting the eligibility requirments.
and more.  I got the sense that Wooden cared more about each player's character rather than success on the hardwood.  In doing so, basketball victories followed (10 ncaa championships in a 12 year period).
At points in the book the author strays from the teaching of Coach Wooden to Williams' own philosophy about life.  I found some of these anecdotes interesting, such as an account of Walt Disney's attention to detail.  At other places, though, such as when Williams quotes C.S. Lewis from Lewis' book "The Screwtape Letters", I wondered "what's this have to do with Coach Wooden?"  I liked best the personal anecdotes Williams shares about Wooden in the book, and not so much the tangential stories of others.
I always rooted against Wooden's UCLA teams because they were just too good (I prefer to cheer for the underdog).  Reading Coach Wooden's Greatest Secret gave me a new appreciation for what Wooden accomplished with those championship teams.  Whether you are a basketball fan or not, the book will have an impact on you for its simple yet profound life lessons from the game's greatest coach.