Don't Die with Your Music Still in You (book review)
By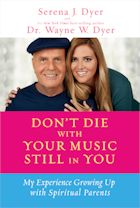 I received a complementary copy of this book from Hay House for review purposes.  The opinions are completely my own based on my experience.
When I was first given the opportunity to read and review "Don't Die with Your Music Still in You: My Experience Growing Up with Spiritual Parents" I resisted.  "Serena Dyer probably just got to write and publish this book because of her famous father," I thought.  Yet being a fan of Wayne Dyer's work I was intrigued enough to give the book a try.  I am glad I did.  I was to discover Serena Dyer has a vulnerability and grace uniquely her own.  While Wayne Dyer adds his thoughts at the end of each chapter, this is primarily a Serena Dyer book, and a good one at that.
I enjoyed Serena's behind the scenes stories of what it was like to grow up in the Dyer household.  Rather than living on a perpetual spiritual high, I learned that the Dyers had their own challenges to work through.  The separation of Wayne from Serena's Mom Marcelene, for example, was a biggie.  "It was a really difficult time for the whole family," Serena writes, "yet I also think it was a pivotal time in my life."  The Dyers come across as very human through Serena's family stories.  "My dad was distraught and had a very difficult time just functioning on a day-to-day basis during that fateful summer," Serena recalls,   "He had always been so strong and positive that his pain was jarring. He was such a powerful figure in my mind, but that summer I realized he was also vulnerable and human."
Serena's insights on living and her admiration for her Mom and Dad come through in each chapter.  "Spirituality isn't about being positive and memorizing great quotes. Spirituality is honoring the truth that is within me so that I can grow and expand and improve," she believes.
Like her father, Serena has the gift of relating life lessons through easy to read stories.  I was entertained and inspired by Don't Die with Your Music Still in You, and I think you will be, too.
You can get Don't Die with Your Music Still in You from these sources: