Forgiveness: 21 Days to Forgive Everyone for Everything (book review)
By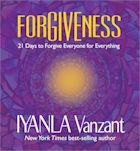 I received a complementary copy of this book from Hay House for review purposes.  The opinions are completely my own based on my experience.
As I get older I am realizing that forgiveness is not just a good practice, it's essential for everyday peace of mind. Iyanla Vanzant feels that way, too, and she gives many wonderful forgiveness strategies in her new book Forgiveness: 21 Days to Forgive Everyone for Everything.
"What I have learned during my 30-year sojourn through the science of personal and spiritual growth and healing is that forgiveness will cure whatever ails you," Vanzant writes early in her book. "The other thing I am totally convinced of is that while forgiveness ain't easy, it's the most important inner work you can do within your mind and heart." I like how the author shares stories of her own pain and the forgiveness work that came out of it. "If you know anything about my life story, you know that I have been to some very dark places," she admits.
Vanzant's book is divided into 21 daily assignments, each focused on a different area of forgiveness. With chapters devoted to forgiving your parents, your body, your God, your partner, and more the author covers the gamut of anyone or anything you may be angry with. She emphasizes journaling and the Emotional Freedom Technique ("tapping") to work through your pain in these different areas to bring you to the healing place of forgiveness. A CD is included in the hard cover copy of the book with meditations and music to help you through the process.
I did not take the time to work through all the assignments in the book.  You may find, like me, that some areas in your psyche need more forgiveness work than others.  I think the book is a valuable resource to aid in healing present and future grievances that may arise in your life.
"Forgiveness inevitably leads to acceptance," Vanzant writes.  "It is a demonstration of your willingness to move on. Acceptance does not mean you agree with, condone, appreciate, or even like what has happened …  forgiveness restores our faith, rebuilds our trust, and opens our hearts to the presence and power of love."  If you are open to forgiving those who have hurt you in the past, I recommend this book as a tool to bring you to a place of healing.
You can get "Forgiveness" from these book sellers: