Holy Shift (book review)
By
I received a complementary copy of this book from Hay House for review purposes.  The opinions are completely my own based on my experience.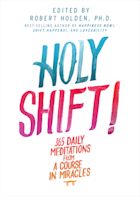 I've come across many authors, teachers, and acquaintances in the past year who have had a positive experience studying A Course In Miracles (ACIM).  "It's my primary spiritual path," said one.  When I've tried to read ACIM myself, however, I found it hard to comprehend.  Yet because it has had such a favorable impact on peoples' lives I wanted to learn more about it.  That's why I welcomed the chance to read Robert Holden's new book: Holy Shift: 365 Daily Meditations From A Course In Miracles.
In the 10 page introduction Holden gives the best overview of "The Course" that I have read.  "A Course in Miracles is a big book.  It's more than 1,200 pages and 500,000 words long, and its size alone is too imposing for many," Holden writes.  It was a relief to know I was not the only one who was baffled by ACIM at first glance.  Holden himself writes about The Course, "Initially, I found it difficult to understand."  Yet Holden says "The Course describes a miracle as something you experience when you are willing to shift your perception from a psychology of fear to a psychology of love." Now that's something I can relate to!  My spirituality is based in the unconditional love of God, and not in the fear based messages taught in many churches.  I wanted to read more.
Once I was past this excellent introduction, I discovered Holy Shift was not an original work.  Rather Holden gives the reader 365 passages from The Course to read and meditate on – one for each day of the year.  For someone intimidated by the size and language of the original Course, Holden's work is much easier to digest. I found myself underlying key passages, such as:
"As a man thinketh, so does he perceive.  Therefore, seek not to change the world, but choose to change your mind about the world." (February 1st).
"Only the Love of God will protect you in all circumstances." (March 1st)
"You who want peace can find it only by complete forgiveness." (May 2nd)
"God is our goal; forgiveness is the means by which our minds return to Him at last." (Sept 13th)
"The Holy Spirit's Voice is as loud as your willingness to listen." (November 5th)
With ACIM's primary message of love and forgiveness, emphasized throughout Holy Shift in these and other passages, I found the book uplifting.  Holden has produced an abbreviated version of A Course In Miracles – good for people like me who find the original Course a bit overwhelming.  Ardent students of ACIM will find Holy Shift a valuable refresher of The Course's key concepts.  For the purposes of this review I quickly read through the 365 daily lessons.  I'm going to take a second look, this time reading the book as it was intended, with one passage to focus on each day.
You can get Holy Shift from these sources:
Learn more about Holy Shift from this video from Robert Holden: