Miracles Now (book review)
By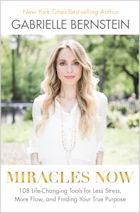 I received a complementary copy of this book from Hay House for review purposes.  The opinions are completely my own based on my experience.
When I attended Hay House's recent I Can Do It conference in Denver I was browsing Gabrielle Bernstein's "Miracles Now: Tools for Less Stress, More Flow, and Finding Your True Purpose" at the bookstore.  "I was so hoping to hear Gabby speak today," said a woman in her 20's next to me, disappointed that Bernstein's appearance at the conference had been cancelled.  "Gabby is reaching the younger generation with her message," she said.  Having listened to Bernstein's Hay House radio program in the past I said, "I like her, too, and I'm old!"  But I had never read any of Bernstein's books.  Until now.
Miracles Now does indeed appeal to the young and old with its practical, easy to understand spiritual lessons.  Divided into 108 short chapters (most one or two pages), I liked reading a few pages after my morning meditation, and a few more in the evening before going to bed.  Bernstein, very much in tune with social media, has a inspirational quote at the end of each chapter just perfect to summarize the topic and to share with your twitter followers.  I sent out on my twitter feed the ones that had the most impact on me, such as:
Is twitter not your thing? You can "pin it, post it to Facebook, or pass it along on Instagram" instead, says Gabby.
In the lessons she shares Bernstein draws from two primary sources: insights from A Course In Miracles and from her Kundalini yoga practice.  In my experience A Course In Miracles can be difficult to understand on your own.  Bernstein explains it in simpler terms.  The Course "is a metaphysical self-taught curriculum based on the principle that when we choose love over fear we experience miraculous change," she says.  The Kundalini exercises were new to me and most were easy to follow (this old guy didn't try the one where Gabby recommends standing on your head for one minute, however :-))
Bernstein's practical and straight forward spiritual exercises reminded me of the writing of Louise Hay – Gabby is that good.  "When you are called to share the spiritual awareness you now have, don't hesitate to speak up. Be the lighthouse. In your light, others will become illuminated," Bernstein concludes in the final pages.  Reading Miracles Now gave me encouragement to spread my own light, as well as a bevy of simple spiritual tools for me to use now and in the future.
You can get Miracles Now from these sources: