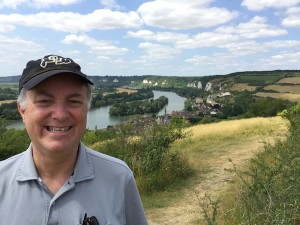 2015 was a year in transition for this blog.  I got my start reviewing books through Hay House's Book Nook program, and I will always be grateful to Hay House for all the free books they sent my way to review the past few years.  But the Book Nook program went away early in 2015, so what was I do to?  I found two other sources for books to review – Overdrive (where you can get digital books on loan from the library) and NetGalley (a book reviewer site with far more variety than Hay House's).  In addition I am often approached by authors to review their books, and I read a few of those this year, too.  Occasionally I will throw in posts on other topics, like stories from my travels (the picture to the left is from my trip to France in the summer of 2015).
Because I had more sources to review books from, I was more selective in the titles I read.  Consequently I consider 2015 my best year yet in the number of quality books I read.  It was tough to choose a top 5.  Here's my list with a link to my original review for each book:
5.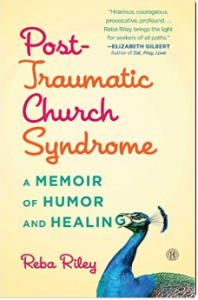 Post Traumatic Church Syndrome by Reba Riley
The story of a woman who walked away from Evangelical Christianity, but she did not give up on God or spirituality.  It wasn't easy for Reba as she is very open in this book about her doubts along the way as she samples 30 religious groups before the age of 30.  Eventually she finds a more loving and inclusive spiritual orientation that works for her.  I enjoyed her humor in the book. "Like Reba, I've moved from following the religion of my youth to creating a spirituality that does work, and I feel reading Post Traumatic Church Syndrome will encourage you to do the same," I wrote in my review.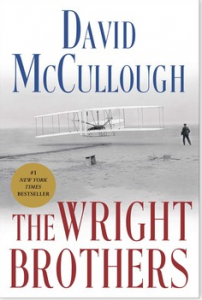 4,  The Wright Brothers by David McCullough
In past years I primarily read self help and spiritual types of books.  In 2015 I felt like something different – reading biographies.  The amazing story of the Wright Brothers, told in wonderful detail by David McCullough, was one of the best.  "Modern day dreamers would do well to learn from the Wright brothers' story, to persist despite setbacks and criticism to achieve their own lofty goals," I wrote in my review.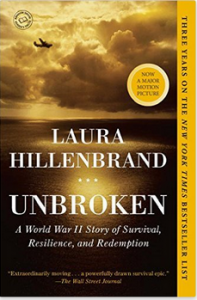 3. Unbroken by Laura Hillenbrand
The second biography on my list – the story of war hero Louis Zamperini and all the struggles he endured, only to emerge as one of the most loving, caring, and spiritual persons you could ever imagine.  From my review: "What made his life transcendent, what made it resonate in millions of hearts, was not the hardship he encountered, but the way in which he greeted it, how he turned it to joy, and what that told the rest of us about the potential that sleeps within ourselves," Hillenbrand wrote in her eulogy to Zamperini.  Zamperini passed away in July 2014, but his story lives on to inspire us all.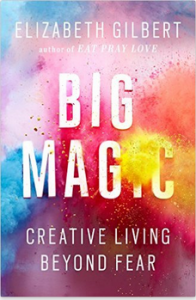 2. Big Magic: Creative Living Beyond Fear by Elizabeth Gilbert
A must read for aspiring writers (like me) or any creative person, Gilbert gives wonderful suggestions from her own life in overcoming fear and allowing her creativity to emerge.  From my review: Gilbert tells the reader in response to fear to "please calm down now and get back to work, okay?  The treasures that are hidden inside you are hoping you will say yes."  Her words inspired me to revive a stalled book project I've been working on, and I feel she'll encourage you to pursue your creative dreams, too.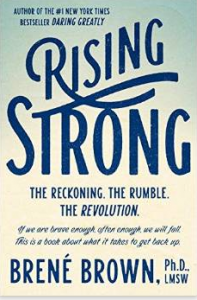 1. Rising Strong by Brené Brown
I read lots of books that emphasize positive thinking.  But what happens when life doesn't turn out like you hoped, despite your best intentions?  Rising Strong addresses that.  From my review: While reading Rising Strong one of my favorite quotes from came to mind: "The pessimist complains about the wind; the optimist expects it to change; the realist adjusts the sails."  (William Arthur Ward).  Rising Strong is a book for realists..  Rather than denying hurts Brown encouraged me to work my way through failures, to adjust my own sails.  "The truth is that falling hurts. The dare is to keep being brave and feel your way through it," she says.
Honorable mention: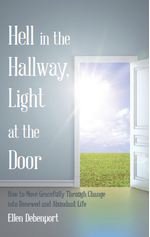 Hell in the Hallway, Light at the Door by Ellen Debenport
From Unity minister Ellen Debenport, this book has a similar theme to Rising Strong.   From my review: Chances are you have experienced an unexpected trial at sometime during your life.  A loss of a job, a major illness, a divorce, or something else.  Just when life seems to be going great you are thrown a curve.  Are you able to work through this struggle to emerge stronger on the other side?  For help in doing that I recommend reading Ellen Debenport's new book.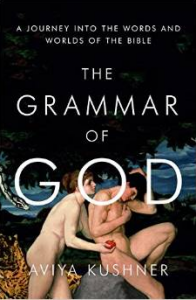 The Grammar of God: a Journey Into the Words and Worlds of the Bible by Aviya Kushner
I am not fond of fundamentalists who think their interpretation of the Bible is the only "right" way.  What if there is another way to interpret the Bible (specifically the Old Testament)?  From my review: The English Old Testament is a source of inspiration for millions of people.  But what if the English translation deviates from the original Hebrew meaning throughout the text?  That's the premise of Aviya Kushner's new book.
Occasionally I get an email from an author thanking me for a review.  I was warmed by Kushner's email to me where she wrote, "Thank you for your thoughtful review of The Grammar of God. I feel you truly understood what I was trying to do!"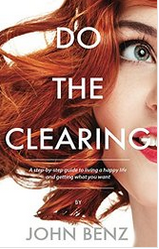 Do The Clearing by John Benz
An excellent book for getting rid of the junk in our lives that hold us back – both physical and emotional clutter.  This is the only entry in my top 2015 review where the author asked me to evaluate his book, and I'm glad I did.  From my review: "Never let any one person or thing blind you to the awesomeness you possess," Benz writes in the book's concluding pages.  "and if some of the events in your life don't turn out the way you planned, keep going, create new endings, and never stop making this the life you want."  I liked this positive recap.  Do The Clearing motivated me to let go of some unpleasant things and thoughts from my past, and I think it will do the same for you, too.
I write these reviews as much for me as for anyone.  Months after I have read a book I can go back to my review and remember what influenced me most from the author's words.  Thank you for following my blog, and more reviews to come in 2016!