The Courage to be Creative (book review)
By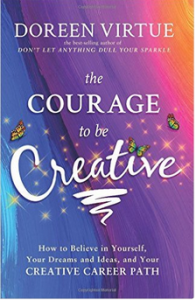 I received a complementary copy of this book for review purposes. The opinions are completely my own based on my experience.
Do you consider yourself to be a creative yet sensitive person?  I do, so that's why I was drawn to Doreen Virtue's new book – The Courage to be Creative: How to Believe in Yourself, Your Dreams and Ideas, and Your Creative Career Path.  "Some of the most creative people I've met are also the most sensitive," Virtue writes.  "Their sensitivity makes them receptive to divinely inspired ideas.  Yet, that same sensitivity makes them shy to reveal their ideas to others."  Yep, that's me.
I have read and reviewed some of the author's other books, like The Miracles of Archangel Gabriel.  Virtue has written extensively in the past about angels – making the topic of communing with angels understandable to the reading public.  While Virtue touches on angels in Courage to be Creative, her new work has loads of practical advice for us creative types, whether we believe in angels or not.  "As much as I love my guardian angels," she writes,  "they don't magically write my books while I sleep.  I'm the one who has to sit at the keyboard and type."
Getting in touch with all your feelings, the good and the bad, is the key to producing creative works that can touch the hearts of others, Virtue feels.  "The more courage you have to fully notice and express your feelings," she says, "the higher the vibration of your creation will be.  Any watering down of your truth, because you're embarrassed to admit how you feel, will lower it."  Reading the book encouraged me to be honest with my feelings in my own writing.
Another part of the book I liked were suggestions on dealing with criticism.  "Most people aren't comfortable with change or anything that's unusual or different," Virtue says.  "Yet, as a creative person, you must present fresh, new ideas in order to be noticed.  Along with being noticed comes the risk that you may also be criticized, feared, or misunderstood."  I also liked the guidance she gives in funding your creative works.  "It's not a good idea to quit your job without first having some savings or other income stream available," she says.  "You don't want to put pressure on your creative output to be an income producer."
Courage to be Creative is the best book I've read on the creative process since Elizabeth Gilbert's Big Magic.  If you have doubts about bringing your own creations into public view, I recommend reading both books.  "True creativity is a gift that you give to yourself," Virtue writes, "with full faith that there's an audience out there who feels the same way you do."