The Fear Cure (book review)
By
I received a complementary copy of this book for review purposes.  The opinions are completely my own based on my experience.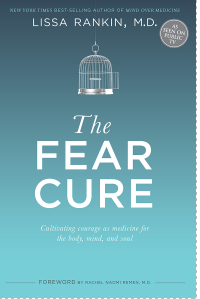 Fear has been my constant companion.  I've written in the past about my fear of public speaking, for instance, which I overcame through the help of Toastmasters.  Yet when I conquer one fear there always seems to be another to take its place.  That's why Lissa Rankin's new book, The Fear Cure, caught my eye.  "What if fear isn't something to avoid, resist, or feel shame about?" she writes in the book's introduction.  "What if, instead, fear is here to help you?"  Intrigued by Rankin's different approach to fear, I wanted to read on.
The author differentiates between true fear – those fears that keep you alive in an often dangerous world – and false fear – unreasonable thoughts that prevent you from reaching your full potential.  I've often been ashamed to admit my false fears, and generally have considered them "bad".  Rankin believes false fears can actually be beneficial.  "Both true fear and false fear can help you, if you know how to interpret them in healthy ways.," she says.
I like how Rankin shares from her own experience throughout the book, including a harrowing account of being held up at gunpoint in a Colorado mountain tunnel.  What fear was she feeling during this encounter?  How did she react?  The author tells all and turns it into a lesson for the reader.  These personal stories are balanced with Rankin's own research.  Drawing from her medical background, Rankin quotes numerous experts on the fear topic.  In this way the book appeals to a wide audience.  Those who like facts from academia will appreciate Rankin's detailed investigation into the subject, while others who prefer real life stories will find those accounts in The Fear Cure, too.
I also like how Rankin sprinkles "Courage-Cultivating Exercises" throughout the book.  In one of these exercises the author asks readers to examine fears they struggle with.  "Ask what message of healing your fear is trying to communicate," she writes.  "What might this fear have to teach you about your personal and spiritual growth?  Where might you have blind spots in need of illuminating?  Where are you stuck?  How can this fear be a blessing?"  In this way The Fear Cure can be a valuable tool for personal introspection.
"True fear is a natural survival mechanism, here to protect you, and false fear is an important teaching tool, here to enlighten you," Rankin writes.  Maybe, just maybe, all those fears I struggle with, past and present, aren't so bad after all.  The Fear Cure helped me to realize the experiences of my most intense fears, and overcoming those, were also the times of my greatest growth.  The book gave me hope that the fears I am currently dealing with just might be leading me to a better life, if I listen to the messages they are trying to tell me.