The Seven Spiritual Laws of Success (book review)
By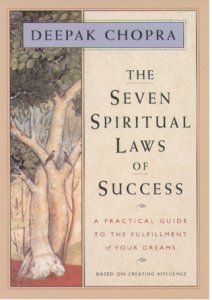 This powerful little book contains the essence of Deepak Chopra's teaching.  At only 115 pages it's a quick read divided into short chapters titled:
The Law of Pure Potentiality
The Law of Giving and Receiving
The Law of Karma or Cause and Effect
The Law of Least Effort
The Law of Intention and Desire
The Law of Detachment
The Law of Dharma or Purpose in Life
I think this is a great book for small group study.  Sometimes in book groups there is so much material to cover in a limited time.  This book is not like that – instead it features short wisdom sayings that are ripe for group discussion.  Such as:
"Accept people, situations, and events as they are, not a you wish they were, in this moment" (in the Law of Least Effort chapter)
"Whatever we put our attention on grows stronger in our life, whatever we take our attention away from withers and disappears." (in the Law of Intention and Desire chapter)
"The Law of Detachment does not interfere with goal setting.  We still have the intention of going in a certain direction, but between point A and point B there are infinite possibilities." (in the Law of Detachment chapter)
I was part of a small group that discussed this book one chapter each week.  The material really struck a chord with my group as members participated in deep and meaningful sharing from their own lives.
I've heard Deepak speak in person a couple of times, and I have read a few of his other books.  At times he can be very deep.  I found the Seven Spiritual Laws of Success easy to understand with practical suggestions to implement in my life.