Tune In: Let Your Intuition Guide You to Fulfillment and Flow (book review)
By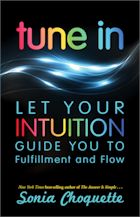 I received a complementary copy of this book from Hay House for review purposes.  The opinions are completely my own based on my experience.
When I was given the opportunity to read and review Sonia Choquette's new book "Tune In: Let Your Intuition Guide You to Fulfillment and Flow" I hesitated.  After all, I had read and reviewed Choquette's excellent "The Power of Your Spirit"  book in 2011 and "Tune In" according to the publisher was "a revised and expanded edition".  Did I really want to read the same material again?  I am glad I did!  "Tune In" was like reading a new book, different than the original, and more importantly gave me valuable insights for listening to my intuition.
"The problem and pain of tuning out your intuition, the voice of your Spirit, isn't that unusual," Choquette writes early in Tune In.  "In fact, it might be the most common problem from which people suffer today."  What follows are pages of instructions and examples of following a Spirit led life, and distinguishing those often subtle messages of your intuition from the loud clamor of your ego.
I like how Choquette shares her own life lessons.  As a college student in my home town of Denver and in a committed relationship, she suddenly feels the call to go on a trip to London with her boyfriend.  Her significant other is not impressed – "why would we want to do that?" he replies.  This eventually leads Choquette to realize she has different life goals than her boyfriend.  She leaves the relationship and accepts a job as an airline stewardess.  Her boyfriend his hurt but eventually accepts her decision.  "Leaving is the right thing for you.  I'm going nowhere but you're going places, and I know it.  It would have happened sooner or later.  I'm just sad it was sooner," he says remorsefully.  "That's how a powerful wake-up call from Spirit works," Choquette relates, "It pulls, prods, and pushes you to be honest with yourself, to remember your soul intentions, to face your greatest fears, to let go of what isn't working or in alignment with your soul and reach for your fullest potential."  Choquette makes her points throughout the book with easy to read stories like this from her own experiences and from her clients' lives.  It's a softer, more human book than Choquette's Power of Your Spirit, but equally effective in getting her message across.
It seems lately I've been letting the rude behavior of others bother me more than usual.  Due to my recent extensive travel schedule I've strayed from my daily spiritual practice.  Choquette writes that when you are in tune with your Spirit "you become more compassionate, recognizing others' negative behavior as a symptom of having lost touch with their inner voice, their Spirit, so it's easier not to take their unpleasant or obnoxious behavior personally."  OK, time for me to start meditating again!  Choquette may remind you, too, of areas in your life where you are out of alignment with your intuition, with tips to get back in the flow of Spirit.
"Once you commit to honoring your intuition, get ready!" Choqutte writes.  "You're about to embark on the most exciting, joyous ride of your life; and I promise that you'll love it."  While I feel I've been taking a spiritual detour recently, I'm ready to once again follow an inspired, Spirit led path. "Tune In" is a great guide for those of you like me who wish to follow the call of their intuition.
You can get "Tune In" from these book sellers: