Wayne Dyer's I Can See Clearly Now (book review)
By
I received a complementary copy of this book from Hay House for review purposes.  The opinions are completely my own based on my experience.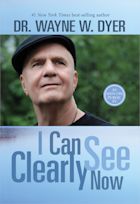 On the first page of his new autobiography, I Can See Clearly Now, Wayne Dyer tells a story of when he was a toddler with his Mom and two brothers.  The family is waiting for an early morning bus in a cold Detroit winter, when suddenly a truck drives by and showers the family with snow.  Dyer's Mom is exasperated – she was dressed for work.  Dyer's brothers are upset, too, with three year old David crying uncontrollably.  The ever positive Dyer makes the best of the situation.  "It's OK, Mommy.  Don't cry.  We can all just stay here and play in the snow."
I found this story and many more a fascinating look at Wayne Dyer's life in I Can See Clearly Now.  Dyer holds back nothing in telling his story – the ups and the downs, the successes and the disappointments.  In 58 chapters Dyer takes us from his childhood to his current success as a New York Times best selling author.  Each chapter concludes with an "I Can See Clearly Now" section where from the benefit of hindsight Dyer makes sense of the incidents that happened earlier his life.
One issue prominent in this book and from his past work is Dyer's relationship to his father.  Abandoned as an infant, Dyer was angry and bitter towards his Dad for many years until he came to a forgiveness moment.  This was the focus of Hay House's My Greatest Teacher movie that I reviewed back in 2012.  In retelling the story this time, in the I Can See Clearly Now portion, Dyer writes, "my life without the benefit of a father was perfect in every way. From this vantage point I see that my books, lectures, films, and recordings came about because my father was absent from my life. My ego wanted him, but my spirit knew that I had a far greater purpose to fulfill."
In telling his stories and the lessons he learned from each one, Dyer may cause his readers to ponder the incidents that have occurred in their lives, and what meaning they can get from those.  I know the book had that effect on me.  "There are so many benefits that can and will accrue for you if you are willing to examine your own personal story from the perspective of having an open mind," he writes.  "In relating all of the circumstances that were major turning points in my life throughout the pages of this book, I discovered some truths I would like to share with you so that you too might enjoy the benefits of looking at your life, then and now, through unclouded lenses."
If you are a Wayne Dyer fan, I Can See Clearly Now is a must read for a behind the scenes look at the life of this inspirational author.  Whether you are familiar with Dyer's past work or not, I believe the book will cause you to take a look back at your own life, and come up with your own "I Can See Clearly Now" insights.
You can get I Can See Clearly Now from these sources: