When Breath Becomes Air (book review)
By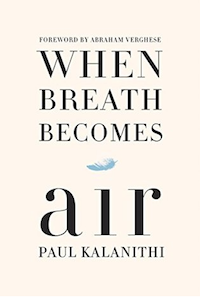 A successful neurosurgeon with seemingly everything going for him, Paul Kalanithi was diagnosed with lung cancer at age 36.  Before the disease claimed his life he kept a journal – a journal that became When Breath Becomes Air.
In the early chapters, where Kalanithi tells of his work as a neurosurgeon, I got a sense of the life and death choices many doctors have to make every day.  "In my life, had I ever made a decision harder than choosing between a French dip and a Reuben?" Kalanithi reflects as he graduates from medical school.  "How could I ever learn to make, and live with, such judgment calls? I still had a lot of practical medicine to learn, but would knowledge alone be enough, with life and death hanging in the balance?"  I gained a new respect for the medical profession as I read the author's stories of the patients he treated, and the difficult decisions he had to made.  Yes doctors make the big bucks but it is not an easy profession.  "Putting lifestyle first is how you find a job—not a calling," Kalanithi writes as he gives the reader an inside look at his demanding, yet rewarding work.
Then the tables are turned.  With his cancer diagnosis, suddenly Kalanithi is the patient.  "My life had been building potential, potential that would now go unrealized," he recalls. "My carefully planned and hard-won future no longer existed. Death, so familiar to me in my work, was now paying a personal visit."  As I read Kalanithi's account of being on the other side of the doctor/patient relationship I was reminded of William Hurt's 1991 film The Doctor, where Hurt's Dr Jack McKee faces similar challenges.  But When Breath Becomes Air is a real life story, not Hollywood fiction.  Kalanithi's vulnerability comes through in relating his thoughts and feelings as his disease progresses.  "Instead of being the pastoral figure aiding a life transition, I found myself the sheep, lost and confused," he writes.
Kalanithi's wife Lucy is an integral part of this story, too.  The couple decide to have a child, despite the dire prognosis for Paul's recovery, and daughter Cady is born eight months before Paul passes away.  "Caring for our daughter, nurturing relationships with family, publishing this book, pursuing meaningful work, visiting Paul's grave, grieving and honoring him, persisting…my love goes on—lives on—in a way I'd never expected," Lucy writes in the book's Epilogue.  "(Paul) was, and would have continued to be, a good person and a deep thinker. Instead, this book is a new way for him to help others, a contribution only he could make."
Lucy Kalanithi is right.  Paul Kalanithi's words will be an inspiration to many (especially those dealing with a serious illness).  I can't imagine anyone facing death with more grace than Paul Kalanithi.