You Are the Placebo (book review)
By
I received a complementary copy of this book from Hay House for review purposes.  The opinions are completely my own based on my experience.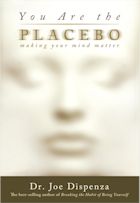 You no doubt have heard stories of people being healed from illness by taking miracle drugs, only to find out later the drugs were "placebos" – or harmless sugar pills.  How, then, were these people healed?  Dr Joe Dispenza explores this phenomenon in his new book, "You Are the Placebo: making your mind matter".
Dispenza knows what you tell yourself can heal physical maladies.  He did it himself!  Having experienced a horrific biking accident at age 23 while competing in a triathlon, Dispenza's prognosis was not good.  With six broken vertebrae it was doubtful he would ever walk again.  "I decided against the medical model and the expert recommendations," Dispenza recalls in the first pages of the book.  "I believe that there's an intelligence, an invisible consciousness, within each of us that's the giver of life.  It supports, maintains, protects, and heals us every moment."  The author goes on to explain how he tapped into that intelligence to heal his back, without surgery.
Similar to his first book I read, Breaking the Habit of Being Yourself, Dispenza is vulnerable in telling his own story, sharing his doubts and struggles along the way.  Dispenza gives accounts of others, too, who healed themselves with positive mental attitude shifts.  Is his approach mere pie in the sky optimism?  Not a chance, says Dispenza.  "None of the methods you'll read about here involve denying whatever health condition you may presently have," he writes.  "Instead of being about rejecting reality, You Are the Placebo is about projecting what's possible when you step into a new reality."  Reading Dizpenza's stories opened my eyes to the power of the mind in healing the body.
As in his first book, Dispenza emphasizes a daily meditation practice to get in touch with the healing intelligence within.  He devotes several pages to a meditation technique.  I found this part hard to follow.  I think it's difficult to learn how to meditate from a book.  In person instruction is much better.  But Dispenza's words did remind me of the value of meditation and encouraged me to continue my practice.
"You Are the Placebo" is a good read if you are going through a health crisis of your own.  Perhaps, through a change in attitude, your condition will improve, like the healing stories of those described in the book.  Dispenza concludes with a noble goal.  "Imagine a world inhabited by billions of people, just like a school of fish, living as one—where everyone is embracing similar uplifting thoughts connected to unlimited possibility," he writes.  You Are the Placebo inspired me to monitor my self talk more carefully, so I too can recognize the "unlimited possibilities" not only in health, but in all areas of my life.
You can get You Are the Placebo from these sources:
Learn more about "You Are the Placebo" in this short video from the author: