You Can Heal Your Heart: Finding Peace After a Breakup, Divorce, or Death (book review)
By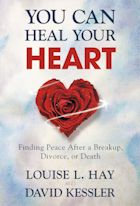 I received a complementary copy of this book from Hay House for review purposes.  The opinions are completely my own based on my experience.
Everyone experiences loss in this life, whether it be the breakup of a relationship, the death of a loved one, or something else.  If you are like me who sometimes find loss hard to take, authors David Kessler and Louise Hay can help.  They have created a wonderful new book on the subject – You Can Heal Your Heart: Finding Peace After a Breakup, Divorce, or Death.
On the cover of this month's Unity Magazine Kessler is called "America's Leading Grief Expert".  I love how the book mixes Kessler's expertise with Hay's affirmation techniques.  "Grieving is challenging, but it is our thoughts that often add suffering to our pain," the authors write in the first few pages.  Kessler knows all about grief, Hay knows all about positive thoughts.  It's a powerful combination.
You Can Heal Your Heart is a book that gives readers hope, even in the most dire of circumstances.  "Although it's natural to forget your power after you lose a loved one, the truth is that after a breakup, divorce, or death, there remains an ability within you to create a new reality," they say.  The most common causes of grief are covered in different chapters: a broken romantic relationship, divorce, death of a loved one, even death of a pet.  One chapter is devoted to other types of losses, such as losing a job.  Regardless of the loss, there is light on the other side according to Kessler and Hay.  "Our ultimate wish is for you to discover that no matter what you're facing, you can heal your heart. You deserve a loving, peaceful life."
Reading You Can Heal Your Heart caused me to take a fresh look at some of my past losses, and to appreciate the lessons learned through those events.  "Life is always moving toward healing," say the authors.  One story that touched me was of Candy Lightner, who lost her first grade son Jesse in the Sandy Hook Elementary tragedy.  Mrs. Lightner encourages us to "change an angry thought into a loving one, each and every day."  The book is full of other inspiring stories of people who have dealt with loss and have come out on the other side with a positive outlook on life.
"We deeply believe in the affirmation Life loves us, although you may wonder how that applies in loss," the authors conclude.  "It doesn't mean that you won't experience loss—but depending on how you hold, perceive, and think about that loss, life can be there for you, even cradling you through your toughest times."   This is a book to read if you are having difficulty with a loss of your own, or to give to a friend or family member going through a similar ordeal.
You Can Heal Your Heart is available from these book sellers: