Becoming Aware: How to Repattern Your Brain and Revitalize Your Life (book review)
By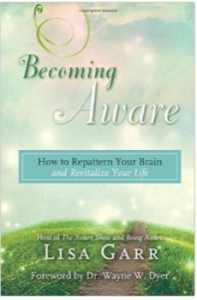 I received a complementary copy of this book for review purposes.  The opinions are completely my own based on my experience.
Lisa Garr is best known for her internationally syndicated radio program, The Aware Show, where for the past 15 years she has interviewed new thought leaders from a variety of scientific and spiritual pursuits.  "On my shows I purposely do not share much about myself," she says, "because I like to give the guest the platform so that their message can shine."  Now Lisa gets to tell her own story in her first book, "Becoming Aware: How to Repattern Your Brain and Revitalize Your Life".  And what an amazing story it is.
I like how the book is organized.  In Part 1 Lisa tells her story of how she became "aware".  In these tales of her growing up years, including time with her famous aunt (the actress Teri Garr) we get to know Lisa as a person before she she gets into "life lessons" in the second half of the book.  Her most powerful story is her account of a near fatal bike accident while racing in the 1999 California State Mountain Bike Championship.  On the verge of overtaking the leader to win the race, Lisa suffers a horrific crash, plunging down the side of a mountain.  After suffering a severe head injury, Lisa recalls, "I don't even know if there are words that could explain the level of consciousness I experienced, something that is much more expansive than anything I've ever known … This was a place of complete, unconditional love."
There it is again.  If you've read my reviews of Near Death Experience books in the past (including accounts from Anita Moorjani and Eben Alexander) each tells of a place of unconditional love beyond this life – a place Lisa describes so well in her book, too.  My spiritual practice is based in the unconditional love of Spirit, and it is comforting to read these NDE accounts as further proof that such Love is the key to all existence.
But you don't have to be on the verge of death to achieve this level of consciousness.  In the second part of the book Lisa gives the reader a series of "Awareisms" so that we, too, can experience our own expanded level of consciousness.  Such "Awareisms" as:
We're powerful beings who were put here to live very fruitful lives.  Quite often what stops us is … us.
Know that bad things happen, but your reaction to these bad things is what really matters.  Of course, you're not immune to negative events, shock, and criticism, but what counts is how you deal with them when they happen.
Quite often our biggest life failures push us into our greatest successes.  Always put life on pause and look for the lesson in each disappointment.
Helping others quiets your mind and releases your own restless energy.  It's a complete win-win situation.
These "awareisms" and others each have an accompanying story to drive home the point.  Lisa uses quotes from a variety of experts in addition to sharing her own experiences.  In this part her years of interviews serve her well, as she tells how she applies the lessons she has learned from her guests to her own life.
I was fortunate to hear Lisa Garr speak in person at the recent Hay House "I Can Do It" conference in Denver.  Hearing her story, which she said was the first time she told it in front of a live audience, motivated me to read her book.  I'm glad I did.  More than an accomplished interviewer, Lisa has life lessons of her own to share.  I recommend you read "Becoming Aware" to learn more.