Dying To Be Me (Book Review)
By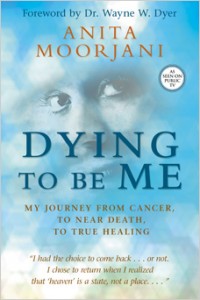 If you are like me, you don't think much about death.  As those close to us pass away, though, the question will inevitably come up: "What will happen to me when I die?"
Anita Moorjani had that question, too, before being stricken with cancer.  In her new book "Dying To Be Me: My Journey From Cancer, To Near Death, To True Healing" she tells a fascinating story of her brush with death, and in the process gives hope and comfort to those of us who would rather avoid the subject.
I like how Moorjani delays getting into her cancer diagnosis until chapter five.  In the early pages the reader gets to know Anita through her stories of her youth.  "Because of my Hindu roots, I grew up to believe in karma and reincarnation," she writes, yet she attended a Catholic grade school.  The conflicts in these two belief systems became apparent to Moorjani early in life.  A Catholic classmate tells her "You need to tell your parents to take you to church to pray to God every Sunday, otherwise you won't get to heaven when you die."  Later she tells of backing out of an arranged marriage, and how she meets her future husband Danny.  We get a full picture of the "pre-cancer" Anita, with the cultural and family issues she had to work through.
When Moorjani's best friend Soni is diagnosed with cancer, as well as her husband's brother-in-law, she is paralyzed with fear that she, too, may get this dreaded disease.  Soon thereafter she discovers a lump on her shoulder, and her worst fears are realized after a medical exam.  She has lymphoma.  Moorjani tries yet is frustrated with various alternative healing methods.  "I didn't know what was good for me and what wasn't, because each system of healing espoused a different truth, and they all conflicted with each other," she writes.  "This confusion only added to my already overwhelming fears.  And as the terror tightly gripped me in its vice once more, I watched helplessly as my health rapidly deteriorated."
Moorjani describes in detail her hospital stay, and the painful tests she had to endure.  Eventually she loses consciousness and her husband is given this grave diagnosis from her doctor: "There's nothing we can do for your wife.  Her organs have already shut down.  She has tumors the size of lemons throughout her lymphatic system, from the base of her skull to below her abdomen.  She won't even make it through the night."
Moorjani relates her feelings of being detached from her body during this time.  "What I can only describe as superb and glorious unconditional love surrounded me, wrapping me tight as I continued to let go," she writes.  "The term unconditional love really doesn't do justice to the feeling, as these words have been overused to the point of having lost their intensity."  With this feeling of peace and love she returns to consciousness, and miraculously her body starts to heal on its own.  Her doctors are baffled.
The best part of the book are the concluding chapters, where Moorjani explains her new understanding of God, Spirituality, and life with the lessons her near death experience taught her.  She posts her story on the internet, where it is discovered by inspirational author Wayne Dyer.  Though reluctant at first to tell of her experience to a wider audience, Dyer encourages her to publish a book and appear with him at various conferences.
Anita Moorjani's book at first glance appears to be about death and how we can better deal with it.  But it is really a story about life.  Grounded in an understanding of the unconditional love of God, she encourages the reader to "express your uniqueness fearlessly, with abandon!  That's why you're made the way you are, and that's why you're here in the physical world."
You can get "Dying To Be Me" from these book sellers:
This is another book review in my partnership with Hay House.  I was not financially compensated for this post. I received the book from Hay House for review purposes. The opinions are completely my own based on my experience.