The Top Ten Things Dead People Want to Tell YOU (book review)
By
I received a complementary copy of this book from Hay House for review purposes.  The opinions are completely my own based on my experience.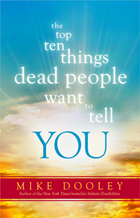 What happens to us after we die?  If you are at all curious about this subject, as I am, you may want to read Mike Dooley's new book, "The Top Ten Things Dead People Want to Tell You".
The skeptic in me immediately questioned where Dooley was coming from.  "Does Mike Dooley REALLY talk to dead people, or are the dialogs with the deceased in the book just something he made up?" I wondered.  I put that question aside and found solid advice for living in the book's 240 pages.
Dooley starts off to say we don't really die, and that this life's purpose is to teach you lessons.  After death, he says, "loving guides soon appear, glowing, radiant, and joyful. They orient you and answer your questions. They teach you. Remind you. Love you. Show you. Everything becomes clearer. You remember the hopes and intentions of your recent life and why you chose it."  I liked Dooley's emphasis on love.  Maybe, just maybe, all the insecurities and failings we feel in this life will be consumed after death in an ocean of unconditional love.  "They (the dead) are elated to find that not only are they immortal, but they're approved of, appreciated, forgiven, and adored, just exactly as they are," Dooley writes.  "If only, they solemnly think to themselves, I'd known this while living … how different things might have been."
Dooley's message of love after death is similar to what I have read in "near death" experience books – first hand accounts of people who have glimpsed the other side – like Anita Moorjani in Dying to Be Me, and Eben Alexander in Proof of Heaven.  I found these autobiographies more compelling and believable than Dooley's book.  And from an outsider's perspective on death, I liked Penny Satori's The Wisdom of Near Death Experiences better for a more detailed, scientific study of the topic.
Nevertheless, Top Ten Things Dead People Want to Tell You still had an impact on me.  "The dead, with their advantage of perspective, see love everywhere," he writes.  I want that perspective, too, and for a time I had it when reading Dooley's book.  How quickly I forget, though.  I'll revisit the pages of Top Ten Things Dead People Want to Tell You next time I need a reminder of the love that is here for me now.
You can get Top Ten Things Dead People want to Tell YOU from these sources: